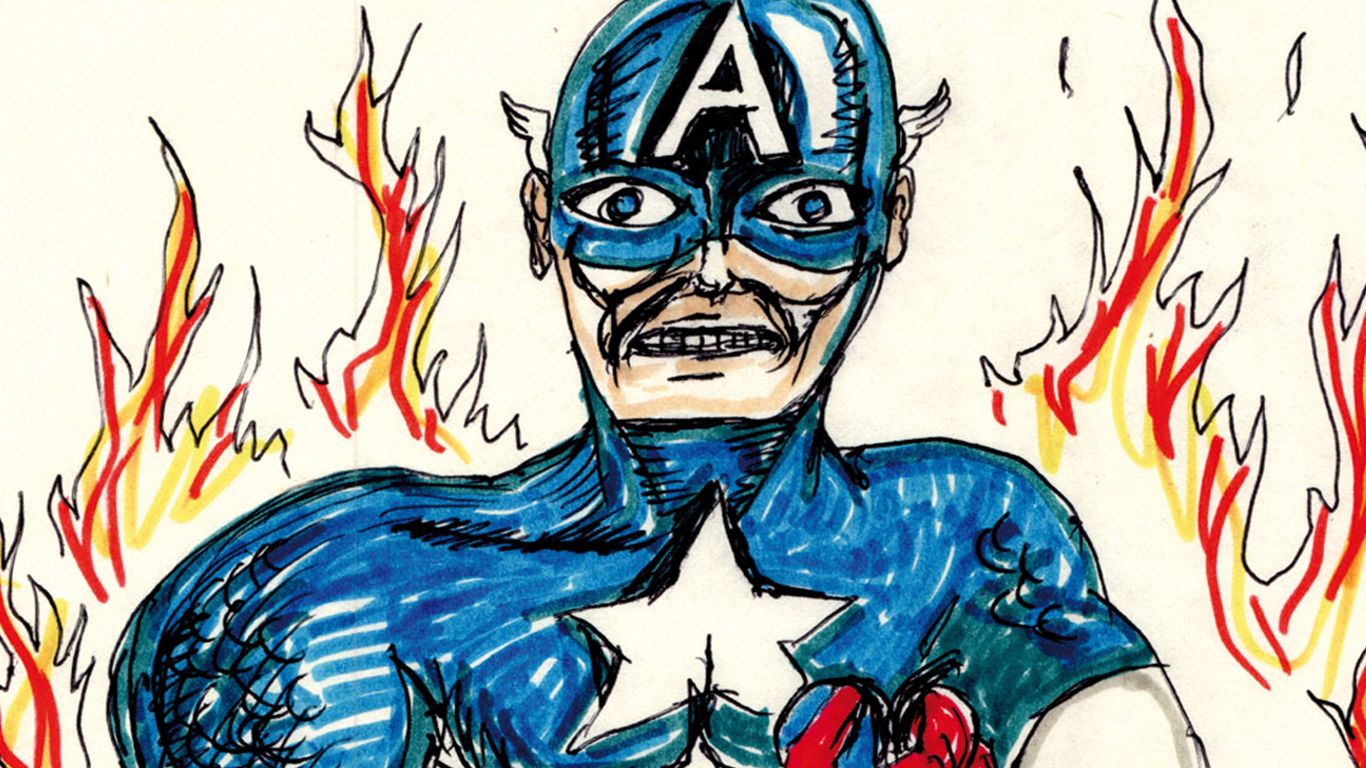 L'exposition Smash! de Daniel Johnston sera présentée dans le cadre de l'Édition 2021 du Festival, en partenariat avec la galerie Arts Factory. En attendant de pouvoir découvrir tous ces dessins en vrai, on vous en propose un premier petit aperçu en ligne.
WELCOME TO MY WORLD
Musicien reconnu, Daniel Johnston est aussi un fan absolu de comics. De Captain America à Hulk, en passant par Thor ou Batman, il aime à les mettre en scène dans des compositions qui bousculent l'ordre établi. Dans ces étranges saynètes réalisées de façon compulsive au feutre et au stylo bille, les super héros sont rejoints par des amis, des ex-amoureuses ou les propres alter-égos de l'artiste comme Jeremiah la grenouille. Tout ce petit monde mène alors une lutte sans merci contre Satan et les forces du mal.
DANIEL JOHNSTON
Avant de devenir la figure tutélaire de la scène musicale lo-fi, Daniel Johnston rêve de travailler chez Marvel et de reprendre les personnages de son idole Jack Kirby. Cette ambition ne le quitte pas et la reconnaissance de son talent de songwriter n'entame en rien sa détermination. Son travail obtient alors le soutien de Larry Clark, David Bowie, Kurt Cobain et Matt Groening et sera salué par le monde de l'art contemporain suite à sa participation à la Biennale du Whitney Musem de New York en 2006. En 2012, Le Lieu Unique de Nantes et la galerie Arts Factory coproduisent une importante rétrospective qui réunit près de 200 pièces. L'ensemble est intitulé : Welcome to my World. Daniel Johnston est décédé le 11 septembre 2019 à l'âge de 58 ans.
Un très grand merci à la galerie Arts Factory.
Notice
: Trying to access array offset on value of type null in
/var/www/vhosts/aixenprovencetourism.com/bd-aix.com/wp-content/plugins/elementor-pro/modules/carousel/widgets/media-carousel.php
on line
243
Notice
: Trying to access array offset on value of type null in
/var/www/vhosts/aixenprovencetourism.com/bd-aix.com/wp-content/plugins/elementor-pro/modules/carousel/widgets/media-carousel.php
on line
243
Notice
: Trying to access array offset on value of type null in
/var/www/vhosts/aixenprovencetourism.com/bd-aix.com/wp-content/plugins/elementor-pro/modules/carousel/widgets/media-carousel.php
on line
243
Notice
: Trying to access array offset on value of type null in
/var/www/vhosts/aixenprovencetourism.com/bd-aix.com/wp-content/plugins/elementor-pro/modules/carousel/widgets/media-carousel.php
on line
243
Notice
: Trying to access array offset on value of type null in
/var/www/vhosts/aixenprovencetourism.com/bd-aix.com/wp-content/plugins/elementor-pro/modules/carousel/widgets/media-carousel.php
on line
243
Notice
: Trying to access array offset on value of type null in
/var/www/vhosts/aixenprovencetourism.com/bd-aix.com/wp-content/plugins/elementor-pro/modules/carousel/widgets/media-carousel.php
on line
243
Notice
: Trying to access array offset on value of type null in
/var/www/vhosts/aixenprovencetourism.com/bd-aix.com/wp-content/plugins/elementor-pro/modules/carousel/widgets/media-carousel.php
on line
243
Notice
: Trying to access array offset on value of type null in
/var/www/vhosts/aixenprovencetourism.com/bd-aix.com/wp-content/plugins/elementor-pro/modules/carousel/widgets/media-carousel.php
on line
243
Notice
: Trying to access array offset on value of type null in
/var/www/vhosts/aixenprovencetourism.com/bd-aix.com/wp-content/plugins/elementor-pro/modules/carousel/widgets/media-carousel.php
on line
243
Notice
: Trying to access array offset on value of type null in
/var/www/vhosts/aixenprovencetourism.com/bd-aix.com/wp-content/plugins/elementor-pro/modules/carousel/widgets/media-carousel.php
on line
243
Notice
: Trying to access array offset on value of type null in
/var/www/vhosts/aixenprovencetourism.com/bd-aix.com/wp-content/plugins/elementor-pro/modules/carousel/widgets/media-carousel.php
on line
243
Notice
: Trying to access array offset on value of type null in
/var/www/vhosts/aixenprovencetourism.com/bd-aix.com/wp-content/plugins/elementor-pro/modules/carousel/widgets/media-carousel.php
on line
243
Notice
: Trying to access array offset on value of type null in
/var/www/vhosts/aixenprovencetourism.com/bd-aix.com/wp-content/plugins/elementor-pro/modules/carousel/widgets/media-carousel.php
on line
243
Notice
: Trying to access array offset on value of type null in
/var/www/vhosts/aixenprovencetourism.com/bd-aix.com/wp-content/plugins/elementor-pro/modules/carousel/widgets/media-carousel.php
on line
243
Notice
: Trying to access array offset on value of type null in
/var/www/vhosts/aixenprovencetourism.com/bd-aix.com/wp-content/plugins/elementor-pro/modules/carousel/widgets/media-carousel.php
on line
243
Notice
: Trying to access array offset on value of type null in
/var/www/vhosts/aixenprovencetourism.com/bd-aix.com/wp-content/plugins/elementor-pro/modules/carousel/widgets/media-carousel.php
on line
243
Notice
: Trying to access array offset on value of type null in
/var/www/vhosts/aixenprovencetourism.com/bd-aix.com/wp-content/plugins/elementor-pro/modules/carousel/widgets/media-carousel.php
on line
243
Notice
: Trying to access array offset on value of type null in
/var/www/vhosts/aixenprovencetourism.com/bd-aix.com/wp-content/plugins/elementor-pro/modules/carousel/widgets/media-carousel.php
on line
243
Notice
: Trying to access array offset on value of type null in
/var/www/vhosts/aixenprovencetourism.com/bd-aix.com/wp-content/plugins/elementor-pro/modules/carousel/widgets/media-carousel.php
on line
243
Notice
: Trying to access array offset on value of type null in
/var/www/vhosts/aixenprovencetourism.com/bd-aix.com/wp-content/plugins/elementor-pro/modules/carousel/widgets/media-carousel.php
on line
243
Notice
: Trying to access array offset on value of type null in
/var/www/vhosts/aixenprovencetourism.com/bd-aix.com/wp-content/plugins/elementor-pro/modules/carousel/widgets/media-carousel.php
on line
243
Notice
: Trying to access array offset on value of type null in
/var/www/vhosts/aixenprovencetourism.com/bd-aix.com/wp-content/plugins/elementor-pro/modules/carousel/widgets/media-carousel.php
on line
243
Notice
: Trying to access array offset on value of type null in
/var/www/vhosts/aixenprovencetourism.com/bd-aix.com/wp-content/plugins/elementor-pro/modules/carousel/widgets/media-carousel.php
on line
243
Notice
: Trying to access array offset on value of type null in
/var/www/vhosts/aixenprovencetourism.com/bd-aix.com/wp-content/plugins/elementor-pro/modules/carousel/widgets/media-carousel.php
on line
243
Notice
: Trying to access array offset on value of type null in
/var/www/vhosts/aixenprovencetourism.com/bd-aix.com/wp-content/plugins/elementor-pro/modules/carousel/widgets/media-carousel.php
on line
243
Notice
: Trying to access array offset on value of type null in
/var/www/vhosts/aixenprovencetourism.com/bd-aix.com/wp-content/plugins/elementor-pro/modules/carousel/widgets/media-carousel.php
on line
243
Notice
: Trying to access array offset on value of type null in
/var/www/vhosts/aixenprovencetourism.com/bd-aix.com/wp-content/plugins/elementor-pro/modules/carousel/widgets/media-carousel.php
on line
243
Notice
: Trying to access array offset on value of type null in
/var/www/vhosts/aixenprovencetourism.com/bd-aix.com/wp-content/plugins/elementor-pro/modules/carousel/widgets/media-carousel.php
on line
243
Notice
: Trying to access array offset on value of type null in
/var/www/vhosts/aixenprovencetourism.com/bd-aix.com/wp-content/plugins/elementor-pro/modules/carousel/widgets/media-carousel.php
on line
243
Notice
: Trying to access array offset on value of type null in
/var/www/vhosts/aixenprovencetourism.com/bd-aix.com/wp-content/plugins/elementor-pro/modules/carousel/widgets/media-carousel.php
on line
243
Notice
: Trying to access array offset on value of type null in
/var/www/vhosts/aixenprovencetourism.com/bd-aix.com/wp-content/plugins/elementor-pro/modules/carousel/widgets/media-carousel.php
on line
243
Notice
: Trying to access array offset on value of type null in
/var/www/vhosts/aixenprovencetourism.com/bd-aix.com/wp-content/plugins/elementor-pro/modules/carousel/widgets/media-carousel.php
on line
243
Notice
: Trying to access array offset on value of type null in
/var/www/vhosts/aixenprovencetourism.com/bd-aix.com/wp-content/plugins/elementor-pro/modules/carousel/widgets/media-carousel.php
on line
243
Notice
: Trying to access array offset on value of type null in
/var/www/vhosts/aixenprovencetourism.com/bd-aix.com/wp-content/plugins/elementor-pro/modules/carousel/widgets/media-carousel.php
on line
243
Notice
: Trying to access array offset on value of type null in
/var/www/vhosts/aixenprovencetourism.com/bd-aix.com/wp-content/plugins/elementor-pro/modules/carousel/widgets/media-carousel.php
on line
243
Notice
: Trying to access array offset on value of type null in
/var/www/vhosts/aixenprovencetourism.com/bd-aix.com/wp-content/plugins/elementor-pro/modules/carousel/widgets/media-carousel.php
on line
243
Notice
: Trying to access array offset on value of type null in
/var/www/vhosts/aixenprovencetourism.com/bd-aix.com/wp-content/plugins/elementor-pro/modules/carousel/widgets/media-carousel.php
on line
243
Notice
: Trying to access array offset on value of type null in
/var/www/vhosts/aixenprovencetourism.com/bd-aix.com/wp-content/plugins/elementor-pro/modules/carousel/widgets/media-carousel.php
on line
243
Notice
: Trying to access array offset on value of type null in
/var/www/vhosts/aixenprovencetourism.com/bd-aix.com/wp-content/plugins/elementor-pro/modules/carousel/widgets/media-carousel.php
on line
243
Notice
: Trying to access array offset on value of type null in
/var/www/vhosts/aixenprovencetourism.com/bd-aix.com/wp-content/plugins/elementor-pro/modules/carousel/widgets/media-carousel.php
on line
243